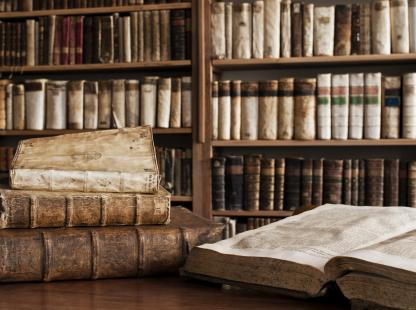 Undergraduate History Additional Programs
Here are the additional Undergraduate History programs available.
Double Majors in the Patent Law
The purpose of these double majors is to ensure that students interested in pursuing a career as a
patent agent or patent examiner (in historical terminology, a patent clerk) 
patent lawyer
Students who complete one of these double majors will find themselves fully prepared for these promising and expanding professions. With these double majors, students are able to approach the patent bar —the exam that allows anyone with a BS or sufficient specialized credits to become a patent examiner—with confidence about both the technical questions (through the Applied Physics major) and the legal premises by which patents are or are not granted (through the LTC major).  This sort of preparation is particularly promising since the average salary for a patent examiner, with no further education, is $75,000.   Furthermore, this course of study will prepare students who hope to continue on to law school.  The double majors, and the evidence they provide that these students can analyze technical and legal material, will make students prepared through this particularly appealing to law schools.  The average salary for a patent lawyer, with only three years of education beyond the Bachelor's Degree, is $250,000.  
In order to expedite the double major, we propose counting applied physics courses in the "Law-Related Course" portion of the LTC major.  Currently, the LTC major requires students to take three "Legal Foundations" courses, four "Law, Technology and Culture" courses, a co-op, a specialized senior seminar, and six "Law-Related courses."  For students pursuing the double major, we would count six applied physics courses in the "Law-Related Courses" section of the major. This would ensure that students would fully complete all the traditional requirements for a applied physics major.  For LTC students on the patent law track, applied physics training would be considered "law-related" and replace six more traditional law-related courses.   Both curriculums (astronomy concentration and optical science and engineering concentration) are listed below.
B.S. Double Major in Applied Physics and Law, Technology & Culture-Astronomy Option (127 credits minimum)
B.S. Double Major in Applied Physics and Law, Technology & Culture-Astronomy Option (127 credits minimum)
HUM 101
English Composition: Writing, Speaking, Thinking I (3-0-3)
Phys 111
Physics I (3-0-3)
Phys 111A
Physics I Laboratory (0-2-1)
Math 111
Calculus I (4-1-4)
CS 113
Introduction to Computer Science (3-0-3) or
CS 115
Intro. to CS I in C++ (3-0-3)
Chem 121
Fundamentals of Chemical Principles I (3-0-3) or
Chem 125
General Chemistry I (3-0-3)
Fresh Sem
(Freshman Seminar) (1-0-0) 
2nd Semester:
Phys 114
Introduction to Data Reduction with Applications (3-0-3)
Phys 121
Physics II (3-0-3)
Phys 121A
Physics II Laboratory (0-2-1)
Math 112
Calculus II (4-1-4)
Chem 122
Fundamentals of Chemical Principles II (3-0-3) or
Chem 126
General Chemistry II (3-0-3)
Chem 124
General Chemistry Laboratory (0-2-1)
Elective
(Physical Education: GUR) (0-1-1) 
---
SECOND YEAR:
 
1st. Semester:
Math 211
Calculus III A (3-0-3)
Math 225
Survey of Probability and Statistics (1-0-1)
Phys 234
Physics III (3-0-3)
Phys 231A
Physics III Laboratory (0-2-1)
Hist 213 or HIST 214
20th Century World (3-0-3) 
HUM 102
English Composition: Writing, Speaking, Thinking II (3-0-3)
Elective
(Physical Education: GUR) (0-1-1) 
2nd Semester:
Math 222
Differential Equations (4-0-4)
Math 328
Mathematical Methods for Scientists and Engineers (3-0-3)
Phys 335
Introductory Thermodynamics (3-0-3)
Elective
(Legal Foundations) (3-0-3) 
Elective
(Legal Foundations) (3-0-3) 
---
THIRD YEAR:
Astronomy & Astrophysics Option
 
1st Semester:
Phys 418
Fundamentals of Optical Imaging (2-2-3)
Phys 432
Electromagnetism I (3-0-3)
Phys 320
Astronomy and Astrophysics I (3-0-3)
Elective
(Legal Foundations) (3-0-3) 
Phys 430
Classical Mechanics I (3-0-3)
2nd Semester:
Phys 433
Electromagnetism II (3-0-3)
Phys 321
Astronomy and Astrophysics II (3-0-3)
Elective
(Math) (3-0-3)
HSS 404
Senior Seminar in Law, Technology and Culture (GUR) (3-0-3) 
IT 400
IT 331
IT 332
Information Technology and the Law (3-0-3) 
Privacy and Information Technology (3-0-3)
Digital Crime (3-0-3)
Hist 310
Co-op in Law, Technology and Culture (3-0-3) 
---
FOURTH YEAR:
Astronomy & Astrophysics Option
 
1st Semester:
Phys 420
Special Relativity (3-0-3)
Phys 442
Introduction to Quantum Mechanics (3-0-3)
Elective
(Math/Phys/CS) 
IE 447
Legal Aspects of Engineering (3-0-3)
Elective
(Management: GUR) (3-0-3) 
2nd Semester:
Phys 322
Observational Astronomy (3-0-3)
Phys 421
General Relativity (3-0-3)
Phys 450
Advanced Physics Laboratory (1-4-3)
Hist 375
EvSc 325
R790:382
Legal Issues in Environmental History (3-0-3)
Environmental Law (3-0-3)
Environmental Politics and Policy (3-0-3)
Hist 378
Medicine and Law in Modern America (3-0-3)
---
B.S. in Applied Physics and Law, Technology & Culture- Optical Science
and Engineering Concentration (127 credits)
FIRST YEAR:
 
1st Semester:
HUM 101
English Composition: Writing, Speaking, Thinking I (3-0-3)
Phys 111
Physics I (3-0-3)
Phys 111A
Physics I Laboratory (0-2-1)
Math 111
Calculus I (4-1-4)
CS 113
Introduction to Computer Science (3-0-3) or
CS 115
Intro. to CS I in C++ (3-0-3)
Chem 125
General Chemistry I (3-0-3)
Fresh Sem
(Freshman Seminar) (1-0-0) 
2nd Semester:
Phys 114
Introduction to Data Reduction with Applications (3-0-3)
Phys 121
Physics II (3-0-3)
Phys 121A
Physics II Laboratory (0-2-1)
Math 112
Calculus II (4-1-4)
Chem 126
General Chemistry II (3-0-3)
Chem 124
General Chemistry Laboratory (0-2-1)
Elective
(Physical Education: GUR) (0-1-1) 
---
SECOND YEAR:
 
1st Semester:
Math 211
Calculus III A (3-0-3)
Math 225
Survey of Probability and Statistics (1-0-1)
Phys 234
Physics III (3-0-3)
Phys 231A
Physics III Laboratory (0-2-1)
HUM 102
English Composition: Writing, Speaking, Thinking II (3-0-3)
Elective
(Legal Foundations) (3-0-3) 
Elective
(Physical Education: GUR) (0-1-1) 
2nd Semester:
Math 222
Differential Equations (4-0-4)
Math 328
Mathematical Methods for Scientists and Engineers (3-0-3)
Phys 335
Introductory Thermodynamics (3-0-3)
Elective
(Legal Foundations) (3-0-3) 
Hist 213
20th Century World (3-0-3) 
---
THIRD YEAR:
Optical Science Option
 
1st Semester:
OPSE 301
Introduction to Optical Science and Engineering (3-0-3)
Phys 418
Fundamentals of Optical Imaging (2-2-3)
Phys 430
Classical Mechanics I (3-0-3)
Phys 432
Electromagnetism I (3-0-3)
Hist 310
Co-op in Law, Technology and Culture (3-0-3) 
2nd Semester:
Phys 433
Electromagnetism II (3-0-3)
Phys 446
Solid State Physics (3-0-3)
OPSE 402
High Power Laser and Photonics Applications (3-0-3)
Elective
(Legal Foundations) (3-0-3) 
Hist 378
Medicine and Law in Modern America (3-0-3) 
Elective
(Phys/OPSE) (3-0-3) 
---
FOURTH YEAR:
Optical Science Option
 
1st Semester:
Phys 442
Introduction to Quantum Mechanics (3-0-3)
IT 400
IT 331
IT 332
Information Technology and the Law (3-0-3) 
Privacy and Information Technology (3-0-3)
Digital Crime (3-0-3)
Elective
(Management) (3-0-3) 
Hist 375
EvSc 325
R790:382
Legal Issues in Environmental History (3-0-3)
Environmental Law (3-0-3)
Environmental Politics and Policy (3-0-3)
Elective
(Phys/OPSE/EE) (3-0-3) 
2nd Semester:
OPSE 310
Virtual Instrumentation (3-0-3)
Phys 450
Advanced Physics Laboratory (1-4-3)
Elective
(Phys/EE) (3-0-3)
IE 447
Legal Aspects of Engineering (3-0-3)
HSS 404
Senior Seminar in Law, Technology and Culture (GUR) (3-0-3)