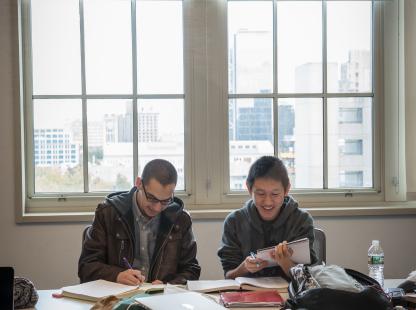 The Minor in History at NJIT
Offered by the Federated History Department of NJIT and Rutgers-Newark.
Faculty Coordinator: Professor Neil Maher
Inquiries may also be addressed to history@njit.edu
Worksheet for the NJIT History Minor (.pdf)
---
What's Special about the Minor in History at NJIT?
The faculty and the courses! The Federated History Department of NJIT and Rutgers-Newark has more than twenty faculty members, many of them nationally and internationally recognized authorities in their fields. That means the department can offer courses in almost every time period, geographical location, and branch of history from the history of science and technology to ancient Greece and from contemporary America to the Far East.
Is It Flexible Enough to Fit a Busy Schedule?
Yes! NJIT and Rutgers-Newark offer dozens of history courses each year, at all times of the day and in the evening, too.
Will It Require a Great Deal of Extra Course Work?
No! The minor in History requires five upper-division courses (300 or 400 level), but three of them can be taken to fulfill the General Education Requirements in Liberal Arts, Humanities and Social Sciences that all NJIT students must take for graduation.  Students may select from among NJIT and Rutgers HIST, R510, R512 and HSS 404 courses to fulfill the minor.
HIST 341  The American Experience
HIST 345: Communication through the Ages
HIST 362:  Sex, Gender and the Law in American History
HIST 364: American Law in the World
HIST 369: Law and Society in History
HIST 370: Legal Issues in Media History
HIST 372: The Nation State and Global Order
HIST 373: The Rise of Modern Science
HIST 378:  Medicine and Law in Modern History
HIST 379: History of Medicine
HIST 380: The History of Public Health
HIST 382: War and Society
HIST 384: Invention and Regulation
HIST 385: Technology and Society in European and World History
HIST 388: Twentieth Century Britain
HIST 386: Technology in American History
HIST 390: Historical Problems of the 20th Century through Film
HIST 490:U.S. History Since 1945
HSS 404: History Capstone Seminar (topics vary and include: Biotechology and the Law, Genetics, Medicine and Society, Murder in U.S. History, The History of A.I., War and Misperception, Law and Disability, LGBT History and Rights)
Rutgers 510 courses are in global history and history within geographic regions.
R510:305: Ancient Sport: Olympians to Gladiators
R510:311: Latin America and the United States
R510:315  The Newark Uprising
R510:316: Living in Nazi Germany
R510:320: Roman History
R510:338: The Ottoman Empire
R510:353,354: Modern China
R510:462 Comparative Wars
Rutgers 512 courses are in American History
R512: 311: Colonial America
R512:318: Labor History
R512:350: The Civil War and Reconstruction:The Unfinished Revolution
R512:371: Contemporary America
R512:383: Culture and the Cold War
R512:408: Topics in American Social and Cultural History: Cities and American Education
What's Required?
Take five 300- or 400-level history electives at NJIT or Rutgers.* It's that simple! Courses may include HSS 404: History Capstone Seminar or Honors History Seminars  and, with the approval of the coordinator and faculty advisor, Hist 401 or 402 : Independent Study in History.
With the approval of the faculty coordinator, one of the five required courses may be a historically themed 300- or 400-level course in literature, philosophy, STS, or another field in the humanities or social sciences.
Architecture majors receive a 1-course credit for Arch 381 & 382 (History of Architecture III-IV).
How Do I Sign Up?
To declare a minor, students fill out the Minor Declaration Form and submit it to the History Department for signature, then submit the form to the Office of the Registrar.
For more information, contact Professor Neil Maher, History Minor Coordinator, Maureen O'Rourke, Academic Coordinator, or email inquiries to history@njit.edu.