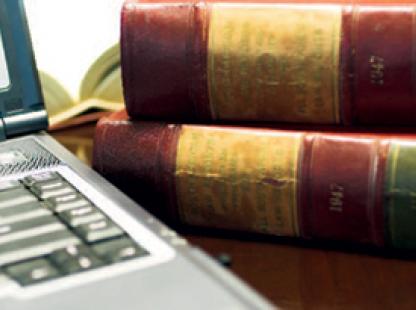 PERMITS
If you are having trouble registering for a history course, you may need a permit.  If your registration error reads prerequisite needed, cohort, or year, please contact the Academic Coordinator Maureen O'Rourke at history@njit.edu.  In your e-mail please include your name, student number, the course and section in which you would like to enroll, and the error code that you receive when you try to register.  If the course is closed you may place yourself on the Registrar's Waiting List available on your registration screen.    
WORKSHEETS FOR HISTORY MAJORS; LAW, TECHNOLOGY AND CULTURE MAJORS, HISTORY MINORS AND LEGAL STUDIES MINORS
Law, Technology and Culture Major Worksheet
SYLLABI FOR HISTORY COURSES TAUGHT AT NJIT
Listed below are recently offered courses and those that will be coming up in the near future.  Not all courses are taught each semester.  The syllabi gathered here are intended to provide background information.  Syllabi for the current semester are uploaded to Moodle and to this page as they become available.
UNDERGRADUATE COURSES
HIST 214     Technology and Culture in American History
HIST 312     Professional Development in the Law
HIST 341    The American Experience
HIST 334    The Environmental History of North America
HIST 345   Communication Through the Ages
HIST 362    Sex, Gender and the Law in American History
HIST 365    Comparative Colonial History
HIST 367    International Law & Diplomacy in History
HIST 369    Law & Society in History
HIST 370    Legal Issues in the History of Media
HIST 373    The Rise of Modern Science
HIST 375    Legal Issues in Environmental History
HIST 377    Cities in History: Regulating the American City in the 20th Century
HIST 378    Medicine & Health Law in Modern America
HIST 379    The History of Medicine
HIST 380    History of Public Health
HIST 381    Germs, Genes and Body:  Science and Technology in Modern Medicine
HIST 382    War and Society
HIST 383    The Making of Modern Thought
HIST 384     Invention and Regulation
HIST 385    Technology & Society in European & World History
HIST 386    Technology in American History
HIST 387     Computers, Innovators and History
HIST 388     Twentieth Century Britain
HIST 390    Historical Problems of the 20th Century Through Film
HIST 391     The Industrial Revolution in World History
HIST 490    Seminar--Research (Required for History Majors.)  
HUMANITIES AND SOCIAL SCIENCES SENIOR SEMINAR
HSS Senior Seminars, sometimes called Capstones, are part of the General Education Requirements at NJIT.  Taken in the senior year, each student must successfully complete 91 credit hours toward the bachelor's degree to be eligible to enroll.  In the recent past capstones have been taught by the following instructors:
Recent HSS 404 Senior Seminars by Instructor and Topic
HSS Senior Seminar Topic
Crisis in the Middle East (See these You Tube clips):
Dr Alison Lefkovitz
The Civil Rights Revolution and the Law 
---
Murder in United States History
LGBT History and Rights Coming in Fall 2018
Dr Elizabeth Petrick
 
---
Law and Disability  Fall 2018The Digital WorldLaw in the Digital WorldDr. Stephen Pemberton
Medicine in the Media
Genetics, Medicine and Society  Coming in Fall 2018
Dr. Kyle RiismandelThe History of the American SuburbDr. Karl SchweizerWar and MisperceptionWar, Technology and Power PoliticsSpecial Forces: Operations, Tactics and WeaponsNazi GermanyConflict Resolution
---
GRADUATE COURSES
HIST 622    Culture and Science in the History of American Medicine
HIST 626     Social History of American Medicine Since 1800
HIST 628    Gender, Science and Technology in the Modern World
HIST 632     Technology, Culture and History
HIST 638     Social History of Communication
HIST 654     Topics in American Intellectual and Cultural History:  The 1960's to the 1980's.  Research Seminar Coming in Fall 2018
HIST 657      Power, Inequality and Nature in American History
ADMINISTRATIVE SUPPORT
EDUCATIONAL ENRICHMENT
WHAT'S HAPPENING ON CAMPUS